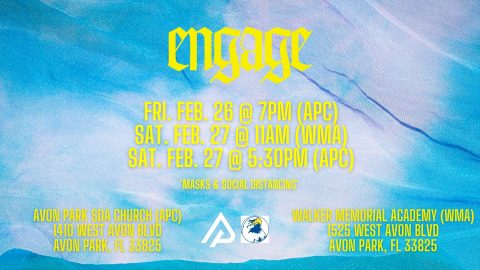 Next weekend Feb. 26-27, 2021 will be an exciting weekend!
We will be having our Engage youth weekend! Engage is a ministry collaboration of Walker Memorial Academy and the Avon Park SDA Church.
It is geared towards ages 13 and up, and is a great opportunity for you to worship and engage with Jesus!
We will be starting Friday night Feb. 26 @ 7 pm in the Avon Park church. Sabbath morning @ 11 am in the WMA gym and then 5:30 pm in the Avon Park Church again.
Our music leader is Markis Zarate and our speaker will be Pastor Amalia Goulbourne.
 If you are in the first 30 people there, you will get a FREE "Engage" tye-dye t-shirt as well as the chance for some of our giveaways at the start of the event!
Excited for you to join us as we Engage with Jesus together! You don't want to miss it!
"Looking unto Jesus, the author and finisher of our faith." -Hebrews 12:2

Blessings,
Steven Sigamani
Associate Pastor