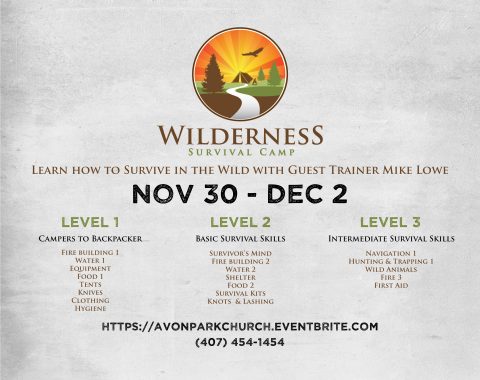 More Details
Learn how to survive in the wild with guest presenter Mike Lowe and other trainers.
We'll be covering three levels of training of which you sign up for only one. We will also have classes for children
Level 1 which trains beginners or campers and equips them to be backpackers.
Level 2 teaches the basics survival skills. You have to be a backpacker to do this level.
Level 3 teaches intermediate survival skills. You have to be proficient at level 2 in order to take part in level 3.
Location
The camp will take place at Pine Lake Retreat, 21725 County Road 33, Groveland, FL 34736.
Level 1 and the children will be in the camping area.  They can camp or use independently rented housing from Pine Lake.
Levels 2 & 3 will be camping in the woods.  You'll need to backpack your gear into the woods and you cannot return to your vehicle for the duration of the camp.
why
Cost
If you register...
before October 1 – $34
on or before November 17 – $40
after November 17 – $50
We only provide the training. You are responsible for your food and accommodation. An equipment list will be sent to all registrants.
Registration
Visit our online registration page.
If you desire to pay by check please make checks payable to the Avon Park Church c/o Robert Hines and mail it to 1410 W. Avon Blvd, Avon Park, FL 33825.