Wednesday, November 7, 2018 at 12 PM – 3 PM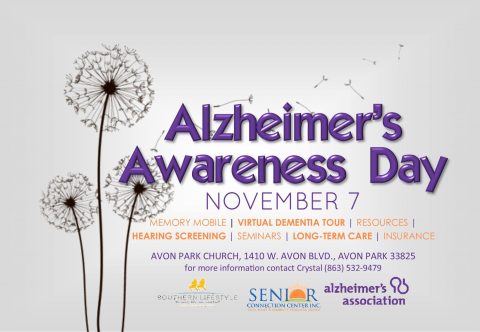 Caring for a loved one with dementia, Alzheimer's or other such mental health issues can be overwhelming. There are so many questions, so many concerns, and such deep emotions. The Alzheimer's Awareness Day will provide you with essential information about Alzheimer's, and the resources and support structures that you'll need as you make this journey. This free event is sponsored by the Alzheimer's Association and other organizations who have the community at their heart and mission such as Florida Hospital, Senior Connections, Southern Lifestyle, and the Avon Park Seventh-day Adventist Church.

For more information visit the Facebook event page or contact Crystal (863) 532-9479.